Interactive Content and the Election
The US Presidential Election is coming to an end.
And while most people are quite happy for this very long election to be over, one thing we loved was all of the awesome interactive content that came out of it.
Most say that this election is the one that has been all about social media, with some even calling it "The Social Media Election." Now, we all know that Republican Presidential Nominee Donald Trump has always loved his Twitter, but this election has featured a lot more than just tweets.
As we saw with the recent coverage with the Rio Summer Olympics, a lot of websites, social media accounts, and even traditional newspapers really embraced interactive content to make their Olympic reporting pop.
The same can be said for Election 2016.
In this post, we're going to look at some of the more popular and interesting examples of interactive content that has been featured this election season.
Electoral Maps
A ton of interactive content is focused around the Electoral College map. In the US, the winner of the Presidential election is the person who reaches 270 Electoral College votes. These votes are broken down by state, with each state getting votes based on the number of their congressional districts.
So, California is a big winner with 55 votes, while Rhode Island only has 4.
It's fun to play around with the Electoral College map to pick winners.
270 to Win
One of the most popular sites for this is 270 to Win. They use a very simple, but very fun and effective way to test out a number of results.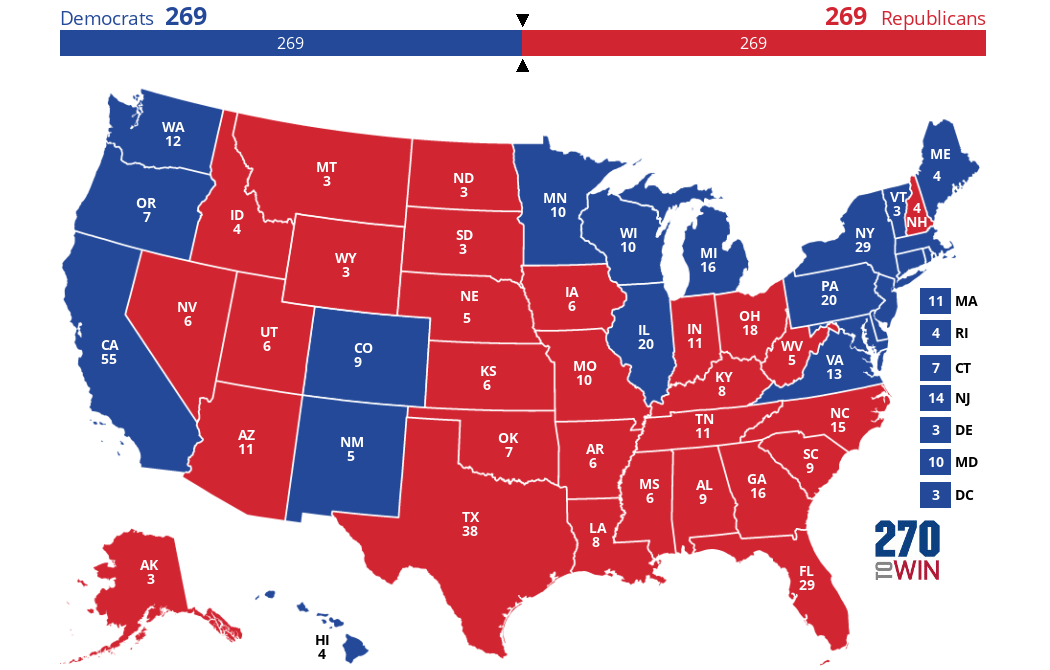 Click the map to create your own at
270toWin.com
It's very easy to use. The map starts with everything grey, and then you simply hover over the state you want and click, turning it red (for Republican) or blue (for Democrat) and watch as it counts up towards 270 (ideally!).
PBS
PBS has also gotten into the interactive game with their PBS Eduelection Central site. This is aimed more towards kids K-12 to educate them about voting in a fun and partisan-free way.
Kids are able to check out the US map and track exactly where the Presidential and Vice Presidential debates are while they are on the road campaigning. Then they can also click on a specific state and learn facts about it.
Here, you can see what the map looks like when a state is clicked. A little bit of history, a fun fact, and the number of Electoral College votes.
Candidate Matchmaker
Sometimes your candidate is like a match made in heaven, and other times it might take a little bit more time warming up to them.
Thankfully, this election has provided a number of interactive tools that you can use to find your perfect match.
CNN
CNN created a 2016 Candidate Matchmaker that's basically a quick quiz on a number of different topics that will calculate your perfect match aka candidate at the end.
After the results, CNN takes it a step further and provides a little chart showing how your answers to their questions matched up to a number of candidates.
This gives people an extra glimpse of how the quiz works behind the scenes, which is a nice extra little touch.
Vox
Vox has created a Vote Compass, which is their way of matchmaking with a candidate. The format is set up like a quiz.
Scroll through the questions and answer them choosing from strongly agree to strongly disagree. The next series of questions cover the particular candidates, and ask you to give an answer that rates them from 0 to 10.
There are a few other similar sections, and at the end you'll get a cool little chart showing where you stand on a graph compared to the four candidates who are running for President.
Fun and Games
Of course, not everything about the election has to be 100% serious all the time. After all, what fun is that? And, when things get contentious between the candidates, it's always important to embrace a way to have a couple of lighter moments.
Here are a few examples.
PlayBuzz Quizzes
Quizzes are one of the best ways to embrace interactive content. They get people clicking, everyone wants to learn a little bit more about themselves, and there is a built in FOMO (fear of missing out) that comes with any quiz.
So is it no wonder they have such high conversion rates?
Let's take a look at a few examples from quiz masters PlayBuzz.
Meme's
Nate Silver of the site 538 first came to prominence as an election forecasting whiz kid during the 2008 election when he predicted every race correctly.
Now, eight years later, people pay a lot of attention to what he says when it comes to the state of the race.
So, things got fun earlier in October when Nate famously tweeted this map:
This was all the collective internet needed to start getting involved in creating their own election maps.
The interactive state map was a wildly popular meme for a few days, which for many, brought a lot of fun to the election right before the finish line.
Final Thoughts
While the election itself is almost over, interactive content is here to stay. As this type of content spreads, you're going to see it be embraced more in more all over the internet. It's not just for bloggers anymore, serious brands have been able to find ways to make interactive content really showcase data and tell a story in a way that is truly unique.
Have you seen any election content that really knocked your socks off this year? Let us know and share in the comments, we'd love to see them!